I have been writing this week so haven't managed to read much, however, I have read one from Clare North, –  Touch. Ever since I found she was Kate Griffin in another guise I have been intrigued at the small differences in the writing – I plan on doing a piece about it later.
So books in a series, I read:
Die and Stay Dead by Nicholas Kaufmann – Urban Fantasy, No2
The Hollow City by Ransome Riggs – YA Fantasy, No 2
Primal Cut by Ed O'Connor – Detective No3
One off
Touch by Claire North – fantasy
Re-read
84 Charing Cross Road – Non-fiction
I enjoyed them all in different ways and will be writing reviews later on. I found Touch needed the most concentration, as the hero! leaps in and out of bodies sometimes many in a few moments, it was fascinating to see how Clare North handled this.  She is an amazing writer whether as Clare North or Kate Griffin. She plays with the English language inventive and at times lyrically and often with a deft British kind of humour. This book scored the highest mark from me.
84 Charing Cross Road I have read many times in my life from way back when it first arrived on the scene. this time it was a re-read for a book group. It never fails to entertain me .I was trying to guess how often I had read it and I think it is probably around the  20 mark.
The Hollow City is, as the first in the series, a fine example of how the best of the YA genre overlaps the adult market.  They are beautiful books for the old photos alone and the plot lines, characters and action are supurb.
Now Primal Cut is not for the squemish and I'm not sure I could read too many of these detective stories but this old lady does enjoy a bit of gore and an easy read.  Quite blood thirsty moi:)
**********
It all began with a letter inquiring about second-hand books, written by Helene Hanff in New York, and posted to a bookshop at 84, Charing Cross Road in London. As Helene's sarcastic and witty letters are responded to by the stodgy and proper Frank Doel of 84, Charing Cross Road, a relationship blossoms into a warm and charming long-distance friendship lasting many years.(Goodreads)
 **********

A brutal murder in Greenwich Village puts Trent and the Five-Pointed Star on the trail of Erickson Arkwright, the last surviving member of a doomsday cult. Back in the day, the Aeternis Tenebris cult thought the world would end on New Year's Eve of 2000. When it didn't, they decided to end it themselves by summoning Nahash-Dred, a powerful, terrifying demon known as the Destroyer of Worlds. But something went wrong. The demon massacred the cult, leaving Arkwright the sole survivor.
Now, hiding somewhere in New York City with a new identity, Arkwright plans to summon the demon again and finish the job he started over a decade ago. As Trent rushes to locate a long-lost magical artifact that may be the only way to stop him, the clues begin to mount… Trent's past and Arkwright's might be linked somehow. And if they are, it means the truth of who Trent really is may lie buried in the twisted mind of a madman( Goodreads.)
**********
Miss Pere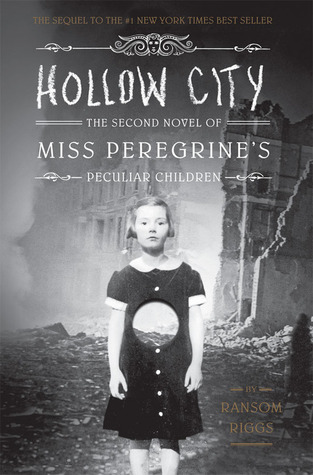 grine's Home for Peculiar Children was the surprise best seller of 2011—an unprecedented mix of YA fantasy and vintage photography that enthralled readers and critics alike. Publishers Weekly called it "an enjoyable, eccentric read, distinguished by well-developed characters, a believable Welsh setting, and some very creepy monsters."
This second novel begins in 1940, immediately after the first book ended. Having escaped Miss Peregrine's island by the skin of their teeth, Jacob and his new friends must journey to London, the peculiar capital of the world. Along the way, they encounter new allies, a menagerie of peculiar animals, and other unexpected surprises.
Complete with dozens of newly discovered (and thoroughly mesmerizing) vintage photographs, this new adventure will delight readers of all ages( Goodreads.)
***********
Before
the days of the National Health Service and modern psychiatry, common wisdom called for brain paste – a mash of the pituitary glands of cow – as a remedy for mental illness. Doctors have forgotten; the general public has forgotten; but Bartholomew Garrod, of East London s Garrod s Family Butchers has not forgotten, and he is using more than just animals to treat his brother . . . he is murdering people.When a body is found, ripped apart and torn, although the slashings appear random, Detective Inspector Alison Dexter recognizes that the marks are actually butchers cuts of meats: the primal cuts.Meanwhile, in Cambridgeshire, a vicious bare-knuckle fight, results in a dead body, complete with bite wounds. Are the cases linked?As Alison Dexter investigates, she starts receiving threatening letters and body parts – human body parts. Time is running short and Dexter desperately needs to find the murderer . . . before he finds her.(Goodreads)
**********
Kepler ha
d never meant to die this way — viciously beaten to death by a stinking vagrant in a dark back alley. But when reaching out to the murderer for salvation in those last dying moments, a sudden switch takes place.
Now Kepler is looking out through the eyes of the killer himself, staring down at a broken and ruined body lying in the dirt of the alley.
Instead of dying, Kepler has gained the ability to roam from one body to another, to jump into another person's skin and see through their eyes, live their life — be it for a few minutes, a few months or a lifetime.
Kepler means these host bodies no harm — and even comes to cherish them intimately like lovers. But when one host, Josephine Cebula, is brutally assassinated, Kepler embarks on a mission to seek the truth — and avenge Josephine's death.(Goodreads)
**********
Musing Mondays is a weekly meme that asks you to choose one of the following prompts to answer:
I'm currently reading…

Up next I think I'll read…

I bought the following book(s) in the past week…

I'm super excited to tell you about (book/author/bookish-news)…

I'm really upset by (book/author/bookish-news)…

I can't wait to get a copy of…

I wish I could read ___, but…

I blogged about ____ this past week…
THIS WEEK'S RANDOM QUESTION:
Have I read The Shannara Chronicles by Terry Brooks – have I seen the TV version?
The answer to both parts of the question s no – have I missed something is this a series I should have read. I am always open to recommendations although  my TBR pile is huge and tottering.  Sorry cannot comment on the books.